As a comparison shopping engine account manager here at Solid Cactus, I use feedperfect daily.  I would like to post regularly with industry updates, as well as take an opportunity to give you tips and tricks that I have found to work well with Feedperfect.
This first post will be to show you how to create and import your own custom spreadsheet into Feedperfect.  Why would you want to?  You would want to do this so that your new data can work with, replace, or complement the data that you already have in feedperfect without altering, or complicating, your live web store.
Many of you might be populating comparison shopping engines (and Feedperfect) using the data that is written from your web store.  However, keep in mind that your comparison shopping engine campaigns do not have to contain the same data that is written on your live site.  Comparison shopping engines are populated with data that come from datafeeds (spreadsheets), and not websites.
The product titles and descriptions that you have on your live site might not necessarily be the best titles and descriptions to have on a comparison shopping engine.  After all, shoppers are going to these engines because they already know what they want, they just want to find the best store to buy it from.  Chances are you are marketing your products differently than your competitor.  For example, let's say you were selling a Hershey's Chocolate Bar.  What would you call it on your site?  Chocolate Bar?  Candy Bar?  What way would a searcher type into the CSE?  On these engines, the name of the game is to give the searcher an easy way to compare your items, rather than to set your self apart from your competitor.  The point is you would want an easy way to alter titles, descriptions, specifically for your CSE campaigns, without interrupting the text on your live site. This tutorial is for the method I use to do just that.
To begin, check that you have a ProductID already mapped in feedperfect. We'll be working with a yahoo store today, so the ProductID that I have mapped from, are my yahoo ids.
The above list of existing mappings can be viewed on the Product Import screen.  (Product Catalog tab > Import Products button)
All you would need for your spreadsheet to sync up with your other Feedperfect data is to make your first column for your ProductID's.  When making your column headers in your spreadsheet make the first one say ProductID.  Think of the ProductID as Feedperfect's name for your item, so to supplement your Feedperfect data, you will need to first reference it by its Feedperfect name, its ProductID.
You can use this method to import any type of data, so just make sure your column headers are relevant to what you're doing, so you know what the data is for later. Also, a good rule of thumb is to keep the headers of your custom spreadsheet data one word.
You can add as many columns as you want with your method, for my example I'm only going to import a column I called NewTitles.
Now in your ProductID column type the ProductID for the item(s) you wish to add data to.  In my case I would like to come up with a new title for ProductID Hershchocbar525. After referencing your ProductID add your data for your new column(s).
Do this for all of the products you would like in your spreadsheets data to.  If you would not like an item in your custom data, then leave it out.
Once youre done making your spreadsheet, save it as Text (Tab delimited) .txt (CSV works too).

Now let's import your supplemental spreadsheet into feedperfect. Go back to the product import page.  (Product Catalog tab > Import Products button)
Click the add button on the right side, under your existing imports.
1) First you have to name your file.  I find it's easier to call my file exactly what it's named on my computer, so I can go back and edit it with out too much research.
2) Pull the type box to "File (CSV)"  txt works too.
3) Locate the file with the browse button.
4) For the Products drop down make sure its set to Update.
5) For the fields portion select Update If Empty.
6) Then Click save.
You will then see the name of your new file under your other import files.
Now the only thing left is to map the new columns of your new file, so Feedperfect will know where to accept your new data.
1)      Click edit in the lower right corner.
2)      Your new columns will be at the bottom, so just map your columns to an open Feedperfect Variable. (To Map highlight your new column name, in the left box called "your store", and then highlight a free variable in the middle box "Feed Perfect" and then click the orange arrow to Map it).
Once you're done, click Save.
Feedperfect recently added 10 custom variables, so those are available to choose from for your custom data.
Once you're done, click save, and then import your new data into feedperfect by clicking the "import data button in the lower left corner".
Once it's successfully imported you have added your data successfully.  Now you can add your new data into your feeds. Since my custom data doesn't include everything, my custom variables need to be called before the actual data.  This means that if there's no data within your custom variable, then your alternative feedperfect field will be called. So put your custom data first.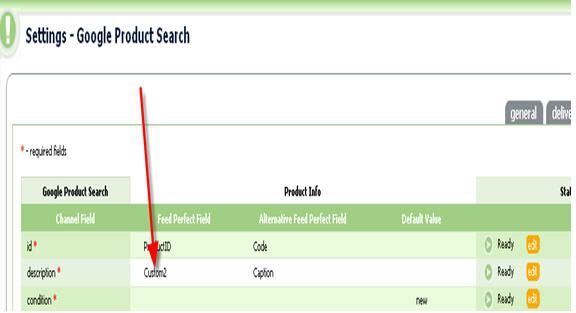 I know it might seem like a difficult tip to begin with, but I will make use of these instructions in blog tips to come. Good things are on the way, Good luck.     -Steve